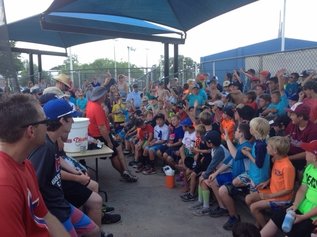 ​CLICK HERE TO REGISTER FOR CF SUMMER BASEBALL CAMP.
TWO SESSIONS TO CHOOSE FROM
JUNE 11-14, 2018
JULY 23-26, 2018
9:30 AM -4:00 PM DAILY
INSTRUCTION IN POSITION FUNDAMENTALS, OFFENSE, DEFENSE, BASE RUNNING, HITTING
AND 3 GAMES PER DAY. ALSO, SWIMMING IN THE AFTERNOON.

LUNCH IS INCLUDED
​
COST IS $155 TILL Feb..28 AND $175 March 1 AND AFTER
CLICK HERE OR ON REGISTRATION PAGE LINK ABOVE TO REGISTER
​
GAMES, FUNDAMENTALS, BASERUNNING, OFFENSE, DEFENSE
LUNCH IS INCLUDED ...CAMP IS LIMITED TO FIRST 70 TO REGISTER.
AWARDS EVERY DAY AT 3:45

CLICK HERE OR ON "CONTACT/PARENTS INFO" TAB ABOVE FOR DETAILED PARENTS INFO
​AND ANSWERS TO FREQUENTLY ASKED QUESTIONS

THESE CAMPS FILLED IN 2017. REGISTER SOON TO RESERVE YOUR SPOT!!

SAMPLE CAMP DAY
9:30 - ROLL CALL
9:45 - DEFENSE/BASERUNNING OR POSITION FUNDAMENTALS
10:30 - GAME 1
11:05 - ICE BREAK
11:20 - GAME 2
12:00 - LUNCH
12:35 - HALF OF A MOVIE TIME
1:20 - BP IN CAGES
1:55 - GAME 3
2:40 - SWIM
3:40 - AWARDS
4:00 - PICKUP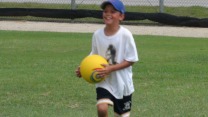 FOR INDIVIDUAL OR GROUP BASEBALL LESSONS CALL COACH SMITH AT 352-427-8372 or Ryan Smith at 352-286-8702.


All of these camps are held on the beautiful College of Central Florida baseball field.

Summer Camps
Come and join the fun this summer. Baseball Camps will be targeted to the baseball junkies who will get lots of instruction, fundamentals and several baseball games a day.
As always, campers will be grouped by age and placed on a team to win the "Camp Champ" medal at the end of the week.
Same Great Awards and Fun

Don't miss the DAILY awards ceremony everyday at the end of the day. Campers have the opportunity to win award patches everyday and the CAMP CHAMP 1st Place Team Medal at the end of the week. Everyone leaves happy when they receive their first patch!!
---